There is much more to Malaga than its international airport. As the capital of the Costa del Sol, this historic town has many charms, it is steeped in culture and has a long-established thriving commercial port.
Yet, over the last couple of years there has been increased interest in the city, mainly due to the newly launched IGY mega-yacht marina. It not only does the marina put Malaga firmly in pole position as the EU's number nautical tourism destination for large crafts, it has also had a knock-on effect on the city's property market. There is a definite buzz around Malaga's luxury real estate market as investors snap-up the luxury homes for sale within the city.
(Island Global Yachting) IGY Malaga Marina
What is so special about the marina?  Quite simply, this marina is dedicated to super and mega-yachts! There are 33 berths for vessels measuring between 20 and 180 metres in length, which makes it possible for Malaga to accommodate the world's largest mega-yachts. A number of berths in dock 1 will be permanently reserved for mega-yachts measuring more than 100 metres.
Just a few weeks after Piers 1 and 2 were opened Malaga welcomed the 10-person craft, the Azimut Grande 35 Metri. This was swiftly followed by The Aviva.  Owned by one of the UK's wealthiest men and co-owner of Tottenham Hotspurs FC, this opulent yacht is worth an incredible 250 million dollars. The vessel measures 100-metres and has suites to accommodate up to 16 people, and it also uses an eco-propulsion system to reduce the amount of fuel required.
The latest craft to put down anchor in Malaga's was The Yas, a 141-metre monster mega-yacht and its 50 strong crew. This floating palace is equipped with every possible convenience including a helipad, beauty salon and swimming pool.  This is just the beginning….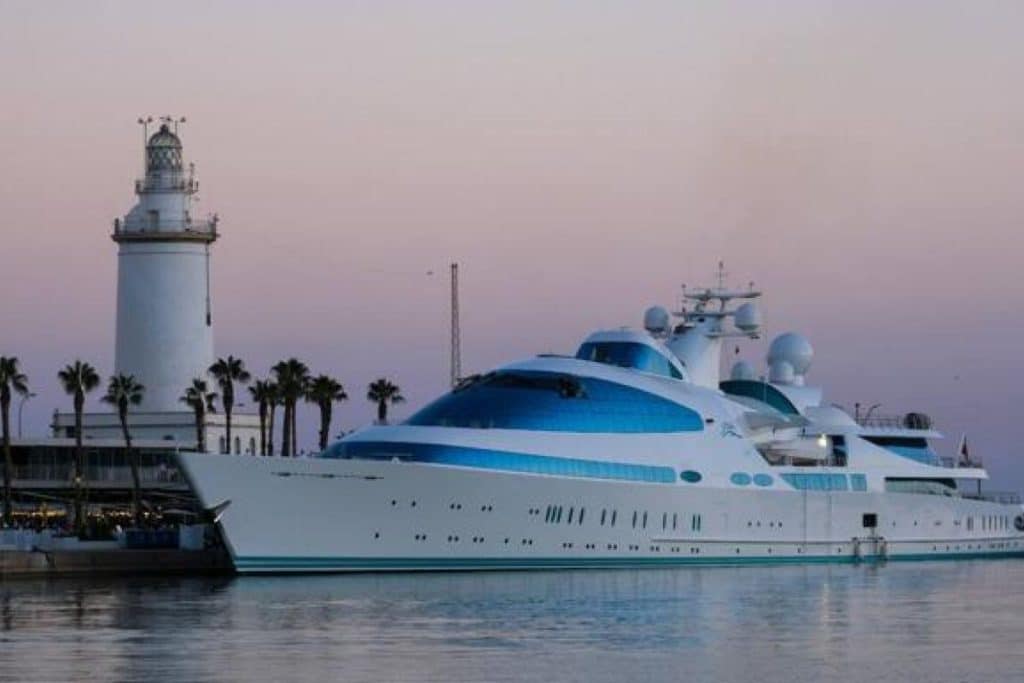 Number 1 for Nautical Tourism
After waiting many years for this 11€ million IGY marina project to come to fruition, Malaga is now a bone fide contender for the number one spot in European nautical tourism. Financial projections suggest revenue in the region of 100€ million will be generated per annum. The local community will also benefit from the creation of up to 800 jobs within the Malaga area.
The marina's footprint spans over 41,484 square metres of water and the surrounding land. The yacht mooring within the marina have access to a wide range of amenities, including restaurants, shops, office and sporting facilities including a gym and tennis. Services include full vessel concierge, laundry concierge, waste collection and recycling and transportation management. Soon there will be a dedicated crew centre and water pump out services.
A further 506 berths will shortly be created in Malaga by the launch of the 44€ million San Andrés Marina, which will accommodate a slightly smaller craft, with a maximum length of 50 metres. Upon ratification from the Board of the Directors of the Port Authority, the project will be funded by a Qatari consortium who are also building a 116metre hotel in the vicinity. The project is expected to generate a further 15.7€ million in revenue per annum and to create up to 741 direct and indirect jobs in Malaga city.
Malaga's at the top of its game
The expansion of Malaga's port is the city's most ambitious project to date and will serve to cement Malaga as an international force to be reckoned with. In addition to the accommodation for mega-yachts, the waterfront areas will be developed to provide leisure and retail opportunities, including a promenade, museums and a shopping centre.
Further afield, investment to the tune of 120€ million has been allocated for a new 5-star hotel, a business centre and a hospital to the north of the city. There are also plans for an outdoor amphitheatre and lagoon and nearby Torremolinos is earmarked for an 800€ million retail and leisure complex.