Sometimes you have those days when you have no inspiration at all and don't know what to cook. Fortunately, on those days a newsletter with inspirational recipes ends up in my mailbox. Hallelujah!
This stuffed pumpkin recipe is originally from Sofie Dumont, a Belgian lady chef.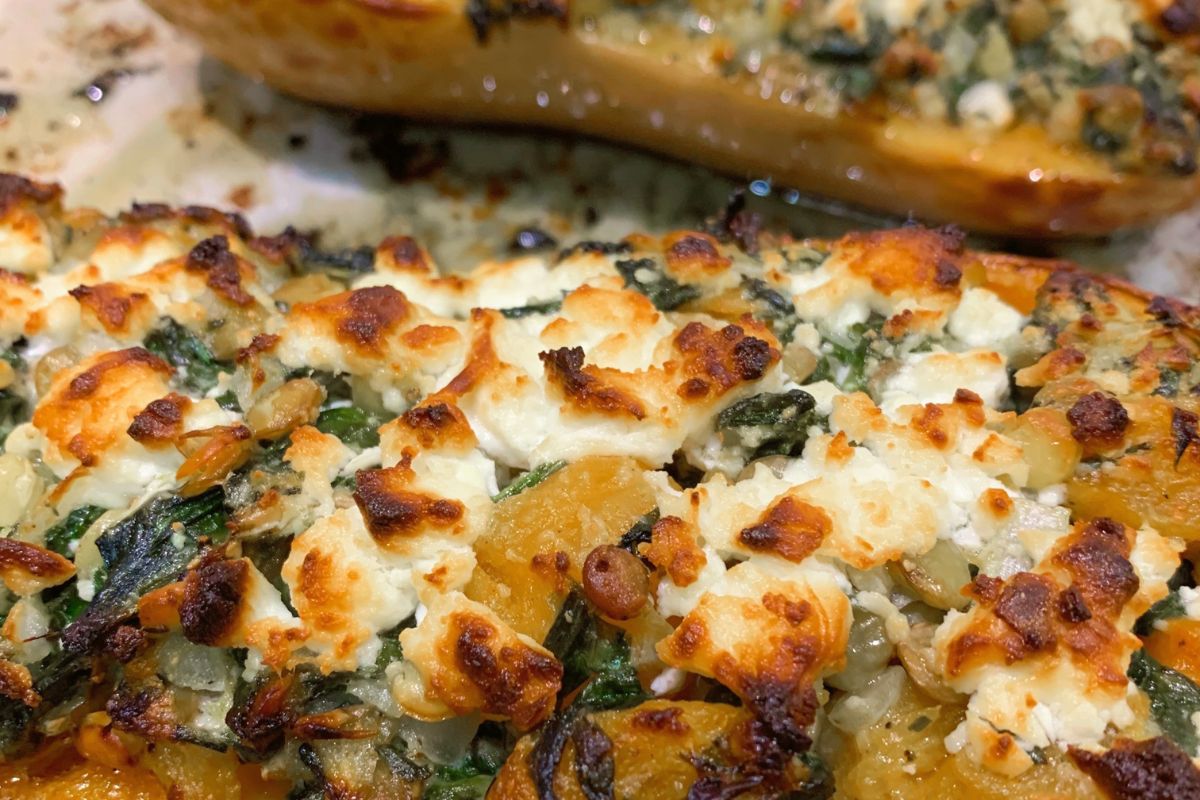 Stuffed pumpkin with lentils, goat cheese and spinach
A vegetarian stuffed butternut pumpkin is really a winner! Mix all ingredients together, fill the pumpkin with it and then bake it in the oven, delicious!
Prep Time

10

Minutes

Cook Time

45

Minutes

Total Time

55

Minutes

Serves

2

People
Ingredients
1 butternut pumpkin, not too big

2 tbsp olive oil

1 shallot

2 goat cheeses (125 g)

250 g lentils, drained

2 cloves of garlic

1 bunch of chives

4 to 5 frozen spinach, thawed and drained or fresh spinach

2 tbsp cream cheese or mascarpone

Pepper and salt
Instructions
Cut the butternut in half lengthwise and remove the seeds. Hollow out the butternut all the way to 1 cm from the edge with a melon scoop or a coffee spoon, you need some arm muscles for this. Prick the meat all over with a skewer and place together with the hollowed-out part on an oven tray lined with baking paper, season with salt and pepper, sprinkle with olive oil and place in an oven at 200°C for 20 minutes.

Meanwhile, put the lentils in a bowl and mix in the grated garlic, mascarpone, finely chopped shallot, spinach and chives and crumble 1 goat cheese over it. Season with salt and pepper. Mix in the roasted pumpkin filling from the oven. Mix it all together well and fill the butternut with it.

Crumble the other goat cheese on top and put in an oven at 200°C for 25 minutes. Serve immediately.

Enjoy your dinner!
Notes
You can also replace the lentils with chopped mushrooms or fried minced meat and the spinach with frozen peas and you have a completely different dish.
Take a look at Sofie's website.