Witte donderdag 2019, alles dicht in Spanje, het is Semana Santa. Als Belg raak je daar niet aan gewend, dus afspraken op de agenda.
Een van onze beste vrienden stuurt rond 10 uur 's ochtends een WhatsApp-bericht: "Hallooooo sweety! Vandaag nemen we een kijkje bij de vlinders in Benalmadena en een lunch in Arara Bistro (in het Double Tree Hilton). Wil je meekomen? "Ter informatie, het hotel wordt nu volledig gerenoveerd en heeft zijn naam veranderd -> Curio by Hilton . Juist is juist 😉
Hmm, verdomme. Luc heeft een afspraak met een klant in Marbella …. Hoe lossen we dit in de praktijk op? Je kent vast wel het gezegde; Waar een wil is, is een weg? Inderdaad, de weg is snel gevonden!
Het was al een tijdje geleden dat ik Peter, Line en hun schattige zoontje Pablo (ik ben zijn tante leuk) had gezien, dus dat hadden we snel geregeld.
Ik wist trouwens niet dat er zulke mooie vlinders rondvliegen in Benalmadena in de Mariposario . De drie volwassenen en de kleine Pablo (hij wordt eind juli 2 jaar) hebben hun ogen uitgekeken en genoten van die prachtige kleine fladderende diertjes. Het was ontspannend.
Oké, 13.30 uur, bezweet en hongerig. Tijd om ons te verplaatsen naar El Higuerón, richting Arara.
Eerst een aperitief, terwijl mama of papa achter Pablo aanloopt, zou Luc zich bij ons voegen. Haast je niet, schat. We genieten van ons drankje op het terras terwijl we het menu bestuderen en ons oog, of eigenlijk Line's oog, valt op het proefmenu. Ok, we zijn verkocht!
Bistrobar geboren uit de fusie van de Braziliaanse, Peruaanse, Andalusische essentie en oosterse nuances.
Bekijk het proefmenu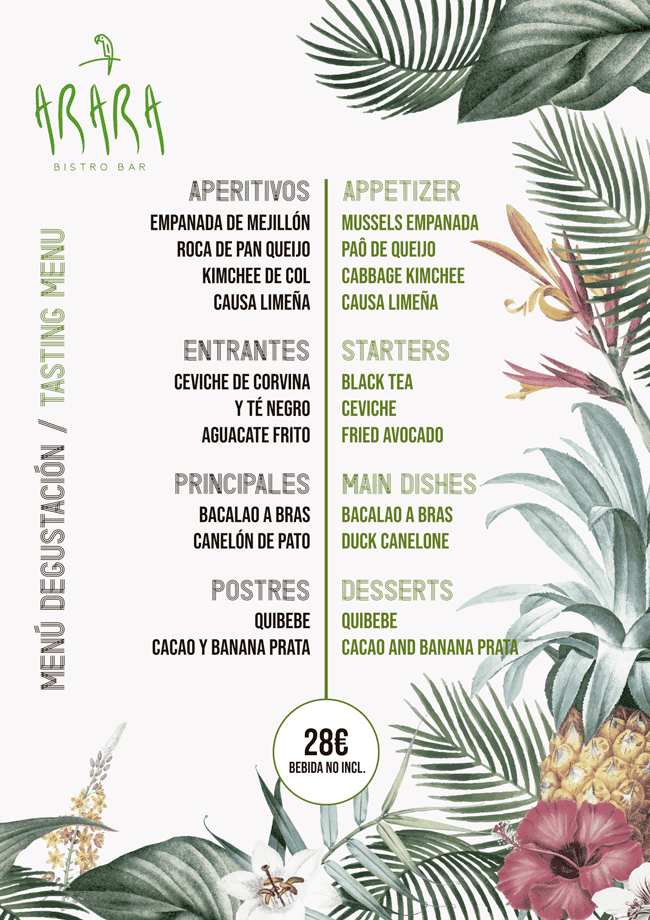 Als je hmmm en ooooh hoort tijdens het eten, weet je dat je op de juiste plaats bent. Nou, dat was zeker het geval. De smaken, de presentatie, …. je kon proeven dat de chef er zijn hart en ziel in had gestopt! Laat de foto's voor zichzelf spreken.
Natuurlijk beoordelen we niet alleen op het eten, maar op de hele omgeving:
Het personeel is zeer vriendelijk en attent.
Mooie omgeving en uitzicht
En heel belangrijk voor mij: schone en mooi ingerichte toiletten.